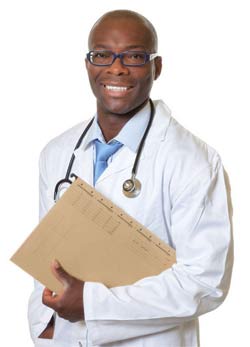 You're a busy person and you probably can't always make time to do a lot of your errands in person. Online services for tasks like shopping, getting information about a vehicle or chatting with a service representative instead of being on hold for three hours are quickly become the preferred method of contact. Some malls are shutting down completely because people just aren't shopping at a physical location any more. While this can be a blessing for the busy person, there are some services you should only consider in-person.
When it comes to your health, you should always physically visit your health care provider. There are some instances when calling a medical help line may be useful, such as when you're a first time parent and you're paranoid about every sound your child makes.
Be cautious, however, of online telemedicine companies if you have a skin condition. Many skin conditions are defined by what they look like, exactly, instead of general descriptions. Unless you work in the field of health care you may be unable to accurately describe what your concern is, and you'll need to count on the person you're speaking with to ask the right questions. This can be disastrous:
Researchers posing as patients with skin problems sought help from 16 online telemedicine companies—with unsettling results.

Some of the online doctors misdiagnosed syphilis, herpes and skin cancer, and some prescribed medications without asking key questions about patients' medical histories or warning of adverse effects, the researchers found. Two sites linked users with doctors located overseas who aren't licensed to practice where the patients were located, as required by state law.

"The services failed to ask simple, relevant questions of patients about their symptoms, leading them to repeatedly miss important diagnoses," said Jack Resneck, a dermatologist with the University of California, San Francisco, and lead author of the study, published online in JAMA Dermatology on Sunday.

Ateev Mehrotra, an associate professor of health-care policy at Harvard Medical School who wasn't involved with the current study, said it "identifies a number of egregious quality issues that raise significant concern."

He added that studies have identified quality issues with in-person visits as well, and that because many dermatologists don't accept Medicaid, the online visits, which generally cost $35 to $95, may be all that some patients can afford.

Direct-to-consumer telemedicine services have exploded in recent years, with more than one million virtual medical visits expected this year, according to the American Telemedicine Association, a trade group. Many insurers cover the services and promote them as a convenient and low-cost way for plan members to get care.

But some physician groups are concerned that the services are eroding doctor-patient relationships, lowering the quality of care and further fragmenting the health-care system.

Via: http://www.wsj.com/articles/study-of-telemedicine-finds-misdiagnoses-of-skin-problems-1463344200
While it is pointed out that even face-to-face visits can have reduced quality, the fact that you are seeing a qualified physician who is physically looking at your condition should be comforting. You should never underestimate the importance of meeting your health care provider in person and developing a doctor-patient relationship with them.
It can be frustrating to wait for an appointment and specialists are sometimes few and far between, but you can rest assured that the wait is worth it because you will be receiving appropriate care. Don't trust your health to someone you've never even met, no matter how easy it sounds.